Two I.M.S.A. MFT deep drilling machines, supplied to corporate clients this year between June and July, feature some improvements which the manufacturer highlights by adding the code EVO to the machine name. One model was built for a French tool manufacturer, while the other one was developed for an Italian company operating in the aeronautical field.
Translation of the article published by the Italian technical magazine "NewsMec", September 2020
Of the 510 deep drilling machines produced to date by I.M.S.A., based in Barzago (Lecco), almost one-fifth are machines for drilling cylindrical workpieces along their rotation axis.
Components such as gear shafts, gears, injectors, various types of piston rods and several other cylindrical parts need to be drilled along their axis. This often involves "deep" drilling, where a hole is over 10 times deeper than its diameter.
I.M.S.A.'s range of machines designed for these component types is called MFT and they use two different drilling methods depending on the diameters: the first one is "gundrilling", used by MFT Series machines for diameters of up to 25 mm on average, but it can even go up to 43 mm. The second method is BTA/STS for the MFTB Series machines made for diameters of over 18 mm, ranging between 18 and 51 mm and 50 to 200 mm.
Customisation isn't just an option for MFT and MFTB drilling machines, it's the standard. The "catalogue" is merely an overview of what's been done so far, leaving space for further ideas which can be made on order according to specific requests.
The range of application starts from diameters of 1.5 mm and goes up to 200 mm, with a maximum drilling depth of 6,000 mm, though I.M.S.A.'s average scope is between 500 and 3,000 mm. Twin spindle options with independent drilling units are available. The machines can be fitted with automatic loading/unloading systems on request.
In particular, the MFT Series machines are largely used where using a lathe for drilling isn't possible or becomes uneconomical.
A deep drilling machine, in fact, provides considerably more favourable conditions for using gundrill tools.
Using cooled and filtered oil, autofocus supporting steadies and gundrill wear-resistance systems allows a significant increase in tool life, sometimes even 40-50 times longer than drilling on a water-emulsified lathe, with cutting speeds that are, on average, double.
The two I.M.S.A. deep hole drilling machines for cylindrical workpieces, supplied this year between June and July, feature some improvements which the manufacturer highlights by adding EVO to the machine name. More specifically, one drilling machine was built for a French tool manufacturer, while the other was made for an Italian company operating in the aeronautical field. We'll find out the details in the next few paragraphs.
DRILLING DIAMETERS FROM 4 TO 25 MM
UP TO 1,000 MM LENGTH
A French tool manufacturer recently commissioned I.M.S.A. to build a drilling machine that will provide the assurance they need, given the growth in production volumes, in order to carry out deep drilling in-house, which was previously done externally.
Taking into account the workpiece type to drill, the material and the final machining requirements, I.M.S.A. drew up the MFT 1000 CR, a drilling machine capable of making holes of between 4 and 25 mm in diameter, without a pilot hole, using the gundrill method for a maximum depth of 1,000 mm, for 34CrNiMo6 tools with an external diameter of up to 106 mm.
The workpiece to drill is counter-rotated to the drill's cutting motion, improving the axial value of the hole. This counter-rotation also enables higher feed rates and improved hole-surface finish.
By carefully evaluating the customer's needs, I.M.S.A.'s technical and sales team "fine-tuned" the design, perfecting it with the MFT 1000 CR EVO.
Deep drilling requires a healthy combination of machine and tool, particularly in terms of vibration absence and cooling systems: all I.M.S.A. deep drilling machines for "cylinders" have been developed with this in mind.
To develop this particular EVO version, the I.M.S.A. design team focused mainly on three fundamental aspects: managing oil pressures and flow rates programmed using inverters with fine adjustments; providing faster positioning through fully CNC axial movement solutions; upgrading the entire machine design with the latest technologies.
Finally, the machine's control functions, developed exclusively by I.M.S.A. for managing cutting forces and clamping pressures deserve a special mention. The machine's functional layout allows the entire filtration system to be housed on a single base.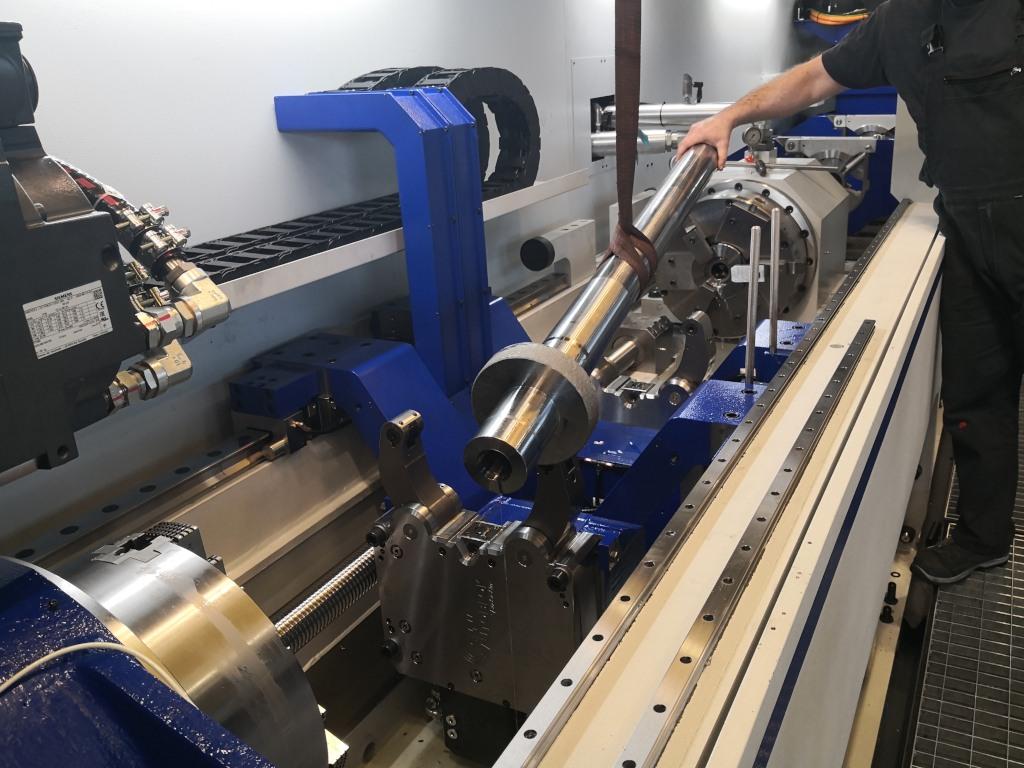 INCREASED DIAMETER AND LENGTH:
FROM 30 TO 110 MM AND UP TO 3,000 MM
The second I.M.S.A. customised deep drilling machine supplied between June and July this year was commissioned by an Italian company operating in the aeronautical field that already had an MFT drilling machine, but that now needed a production unit designed for much larger workpieces than the scope of the previous model.
In fact, they now require a machine capable of reaching drilling depths of up to 3,000 mm for diameters from 30 to 110 mm on workpieces with an external diameter of up to 400 mm.
Based on the customer needs, I.M.S.A. developed MFTB 3000/110 EVO, a deep drilling machine designed specifically for machining aeronautical materials, martensitic stainless steels in particular, such as X30CrMoN15-1 and 17-4Ph among others. Materials like these make deep drilling quite a difficult process requiring specialised solutions.
Compared to conventional approaches, this drilling machine has a BTA tool and workpiece height close to zero regarding the constraint reaction plane (guide plane): this makes it possible to eliminate the inevitable tool and workpiece flexure produced by axial loads.
This particular deep drilling machine configuration also provides solutions for head and counter-head movements with double ball screws, efficient BTA-tool wear-resistance systems, oil pressure and flow rates controlled through inverters, and an oil cooling unit. All housed in an integrated layout where the auxiliary systems are placed inside the machine base, which means a high level of cleanliness in the work area.
To guarantee better control of the entire deep drilling process, I.M.S.A. has provided this machine with control functions for cutting forces and workpiece clamping pressures as well.