Responsibility, cooperation, optimism: fundamentals ingredients for the economic recovery in this critical moment.
We believe in it: that's why we started the production of our most flexible gun drill models and we can propose them with shorter delivery times in respect of usual manufacturing times.
We are at your disposal to assist you in determining the most appropriate solution for your drilling needs.
FOR MOULDS UP TO 2,5 TONNES
COMPOUND-ANGLE GUN DRILLING
AND AUXILIARY MACHINING WITH QUICK COMMUTATION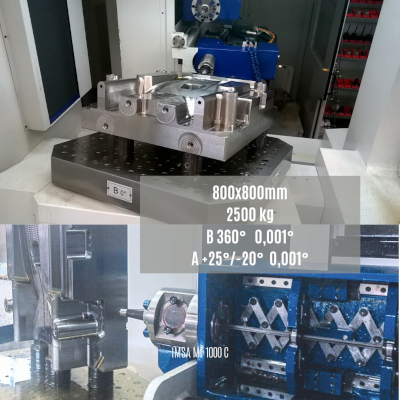 The MF1000C is a compact gun drilling and milling machine for mould inserts, small moulds, and other workpieces. It can also be used to drill off-centre deep holes in cylindrical parts. It can be equipped with various types of tables, based on the machining geometries required: the MF1000C currently in production for the short-delivery project is equipped with a rotary-tilting table (360° rotation; +25°-20° tilting movement) with a load capacity of 2,5 t.

A distinctive feature of the machine is, without a doubt, the vertical gantry structure that provides excellent rigidity; the gantry column is designed to ensure top performance in any position along the Y-axis.

« From a practical standpoint this means we can complete drilling without interruption, due to it having a tool life of more than 20-30 meters of drilling. An added bonus is the possibility to perform milling operations for roughing and finishing holes. Applications include spot-facing, twist-drill boring or tapping operations ». 
– Domenico Rossi, ALBA S.r.l.
The IMSA MF1000C is equipped with an ISO40 spindle (13 kW, 6000 rpm) used both for drilling and for the milling. Gun drills are used for deep drilling and are guided along the entire length by steady rests.
One strong point is the "Swing on Top System" developed by IMSA, which enables a smooth transition from deep drilling to milling and vice versa in a short time. The entire drilling unit, including the chip box and the steady rests, swings upwards leaving the spindle free in order to perform the milling. The manual disassembly of components of the machine by the operator is not necessary. In the milling configuration, the spindle is positioned on the front part of the machining unit, toward the workpiece. From the five places in the tool store, the appropriate tool is loaded onto the spindle (cutter, twist drill, thread cutter,…) and processing can start immediately.
« So far, we haven't found any other system that could change as quickly as the IMSA solution ».
– Harald Starch, S & S Werkzeugbau
FOR MOULDS UP TO 6 TONNES
COMPOUND-ANGLE GUN DRILLING
AND AUXILIARY MACHINING BY ISO 40 SEPARATE SPINDLE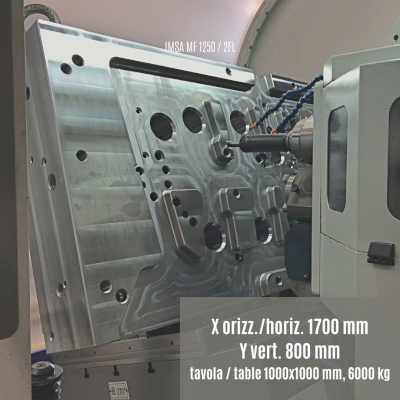 The MF1250/2FL does not require continuous attendance by an operator during operation, and it is capable of drilling many meters before the gun drill needs to be re-sharpened. This gun drilling and milling machine is designed and manufactured to make moulds weighing up to 6 ton, with a diagonal of up to 1900 mm (diameter in rotation within the structure of the machine). This model is equipped with a rotary/tilting table as a standard. This makes it possible to drill complex cooling circuits with compound angle drilling, thanks to the combination of table rotation 360,000 pos/rev and the ±22,5° tilting movement in infinite position.
The dual-spindle headstock configuration allows fully automatic switchover in a few seconds, with no intervention required by the operator. The MF1250/2FL indeed has two spindles: a gun drilling head and an ISO40 machining spindle, positioned on the same headstock above the gun drilling head. Both spindles are liquid-cooled.
The machine is equipped with an ISO tool changer magazine for 12 tools as a standard; however, magazines holding 24 to 40 tools are also available in option.
As regards axis positioning, the MF1250/2FL uses optical scales. The machine is increasingly used to perform pocket milling and precision guides, or for ejector drilling. The precision offered by a positioning system with optical scales for these tasks is significant.
 « When I.M.S.A. appeared on the market, it introduced an extremely attractive feature for our application requirements that other machines did not have: a double head for performing deep hole drilling and milling operations ».
– Giovanni Periti, TVMP
FOR MOULDS UP TO 12 TONNES
COMPOUND-ANGLE GUN DRILLING
AND AUXILIARY MACHINING BY ISO 40 SEPARATE SPINDLE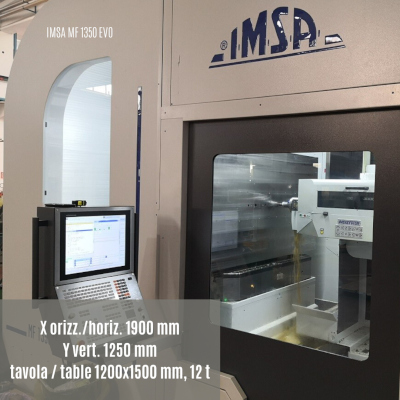 Our EVO Series, that currently consists in 3 models, is the evolution of our top performing BB Series.
The MF1350EVO gun drilling and milling machine is designed and manufactured to drill moulds up to 12 tonnes, with a diagonal of up to 2.600 mm as diameter in rotation within the machine structure.
The structure rigidity that comes from the vertical gantry column gives as a result the same high performance in drilling large diameters regardless of the vertical position.
Compound-angle deep holes are executed by combining the table rotation and the headstock tilting movement (from -20° to +20°). Long transversal movements increase the approach to workpiece, so that the workpiece is only set up once on the table centre.
The headstock accommodates the two spindles: gun drilling spindle and auxiliary spindle, now both liquid-cooled.
IMSA technical team performed a complete revision of the projects from our previous BB Series, with the new EVO Series as a result. The increased stresses during machining, caused by the higher-performance new spindles, are distributed on a machine structure that has been reengineered.
This high-tech concept includes, in particular, transmissions by planetary gear boxes, optical measuring systems, liquid-cooled spindle motors, oil management by inverter and cnc.
«This machine looks significantly more advanced than the previous generation, both in terms of speed and precision. This is particularly evident when large holes have to be drilled, for example with 44 mm gun drills, for which we notice a reduction in time of about 40%. The solidity and rigidity of the machine are evident».
–  Giacomo Varenna, EXACTA STAMPI