THE LATEST MACHINE BY IMSA IS A WINNING SOLUTION FOR MANUFACTURERS OF MULTIPLE MOLDS, OFFERING SIGNIFICANT CAPACITIES NOT ONLY IN GUNDRILLING, BUT ALSO IN MILLING AND PROCESS MANAGEMENT.
Translation of the article published in the Italian technical journal "Macchine Utensili"" February 2015
We are surrounded by a myriad of objects that we use every single day, probably without ever stopping to think about what kind of technology was used to produce them. We are referring to small, very common objects, like products used for personal care and hygiene, toothbrushes, small bottles, bottle caps and so forth.
How much work and investment went into these products? The answer can be provided by Kantemir, a Breton company that produces equipment for mold supports, used mainly for the production of PET bottle caps, food packaging and medicinal packaging.
In particular, Kantemir specializes in the multiple molds sector, meaning equipment that is capable of producing ten-piece lots at each injection cycle with mold stamping cycle times of only a few seconds.
In fact, only high speed stamping and extraction of the piece from the mold can guarantee profitable production of millions of pieces, such as, for example, plastic bottle caps or toothbrushes.

THE IMPORTANCE OF DRILLING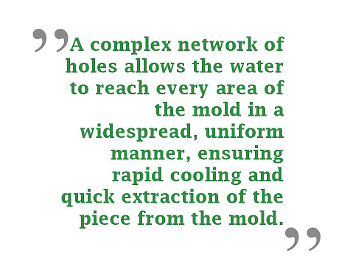 The need to reduce work cycles as much as possible obviously requires the mold-piece to cool very quickly to allow rapid extraction. This is why Kantemir mold supports, almost entirely in stainless steel due to their specific destination of use, are fitted with a very high number of holes to allow rapid circulation of the coolant fluid, generally composed of water with additives.
A complex network of holes allows the water to reach every area of the mold in a widespread, uniform manner, ensuring rapid cooling and quick extraction of the piece from the mold.
It is not by chance that we mentioned uniform cooling in addition to speed. This is because uniform cooling ensures the precision of the finished piece, especially in the case in which each mold is processed in multiple overlapping layer "packets", as occurs in the Kantemir sectors of reference.
The cooling cycle takes place through pumping pressurized liquid into the system of holes followed by filtration, eliminating any residual metallic burrs from the liquid that could damage the pumps.
The equipment produced by Kantemir generally contains from 36 to 64 figures, but the French company has also produced molds with 196 figures. These elements are fitted with deep drilled holes along their entire lengths, ranging from 30 to 100 meters.

IN STEP WITH THE TIMES
Just taking a spin through a supermarket, one can imagine the variety of objects that Kantemir processes. Medical, healthcare and body care products, as well as many bottle caps, often change shapes for reasons related to marketing, packaging, design, cost-containment and so forth.
This means that Kantemir must continue to design and produce new molds and count on a very high capacity for milling, and obviously for an equally high capacity for deep drilling, to be able to competitively produce the tens of meters of deep drilled holes required for each mold.
It could certainly be said that for Kantemir the capacity to make deep drilled holes rapidly, safely, precisely and repetitively is an important factor in their competitiveness, and it is for this reason that the company has instilled a partnership with IMSA.
Founded 25 years ago in Barzago in the Lecco Province, I.M.S.A.  S.r.l. is specialized in the construction of gundrilling machines, and has become one of the primary producers of these types of machines.
Currently there are 400 IMSA machines working all over the world. IMSA machines are built to order: the basic models are adapted for the specific needs of the client thanks to a series of options.

JOINT DEVELOPMENT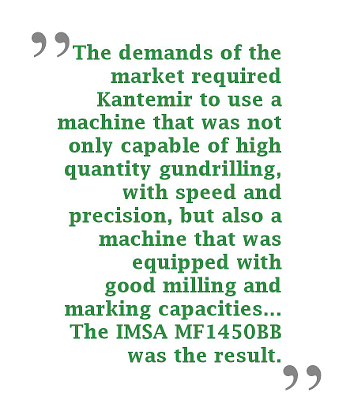 This is also how Kantemir developed. The French company has always collaborated with IMSA, continuing to produce new, more efficient models.
In particular, the demands of the market required Kantemir to use a machine that was not only capable of high quantity gundrilling, with speed and precision, but also a machine that was equipped with good milling and marking capacities; with a lower table to facilitate loading and unloading of pieces and the possibility to implement in process management.
The IMSA MF1450BB was the result.
The new model MF1450BB by IMSA, recently presented at BI-MU, is the latest evolution of the concept behind the BB Series, a series of high tech gundrilling centers that has enjoyed great success among manufacturers of molds with complex cooling circuits, like in the case of Kantemir
The IMSA MF1450BB is the gundrilling center is an optimum addition to meet production demands, with high performance milling for all preliminary and completion milling on deep drilled holes. To satisfy this urgent demand, in the new "BB-Evo Series" the gundrilling center MF1450BB offers a new milling head module ISO50, 29 kW, 6,000 rpm with a liquid cooling system, and 50% speed increase.
The piece advancement stroke is also increased, with significant improvement in the ability to reach the table center, adding a transfer movement of the table to facilitate management of 4 faces (an advantage when processing small pieces as well as large sizes).
High performance gundrilling remains a core element for return on investment in a machine of this type. Taking advantage of the new mechanical design, the MF1450BB gundrilling center also offers superior deep drilling performance in respect to previous models, thanks to a liquid cooled drilling spindle with 11 kW power and 4,200 rpm.
The IMSA MF1450BB is a machine designed to answer to the needs of a specific production sector. It is a typical example of IMSA style, which makes it possible to create ad hoc machines developed together with the same people who will go on to use them, who will rely on the machines for their strategic, decisive and delicate processes, like gundrilling, today managed in combination with milling, according to a multitasking based logic.
The MF1450BB model has later become part of the IMSA standard machine range. Additional options in respect to the equipment developed for KANTEMIR are now also available, such as the tilting headstock for compound-angle gundrilling and machining; ISO50 automatic tool changers of different types and capacities can be chosen as options.