Specializing in the field of molds since 1996, Copy is a contractor company based in Brescia that performs rough machining, deep hole drilling, finishing on dies and punches as well as on particular for molds. For deep drilling operations, Copy relies on solutions provided by the Italian manufacturer I.M.S.A.
TRANSLATION of article that appeared in the trade magazine COSTRUIRE STAMPI – May 2018
In the province of Brescia Italy, in Coccaglio, Copy srl, a contractor company with extensive expertise in copying and production of injection molds for plastics, die-casting and filling, both small and large scale.
"Innovation, superior quality, experience and flexibility – explains Sergio Conter, owner of the company together with Massimo Paris – are the strengths on which we focus our activity, and which guarantee appreciation from the market. By using the latest technology, our company is able to analyze design and manufacturing of molds of varied and complex shapes with a guarantee of high quality and speed of execution. "
Copy was founded in 1996 on the initiative of the two owners. "We started out with two machines in a rented shed; over the years, we have expanded the business through continuous investment." In 2004, in fact, the Brescia company moved its headquarters into a new building near the former headquarters which allowed it to guarantee greater production efficiency to its clients.
Thanks to the ongoing commitment and the care dedicated to the development of molds, Copy has continued to grow. "We are a rapidly growing industrial company, and it is for this reason that recently it has been necessary to further expand our production areas in order to incorporate new machines," says Conter.
The company currently employs twenty employees who carry out their activities at a premises with a surface area of about 2,500 sqm.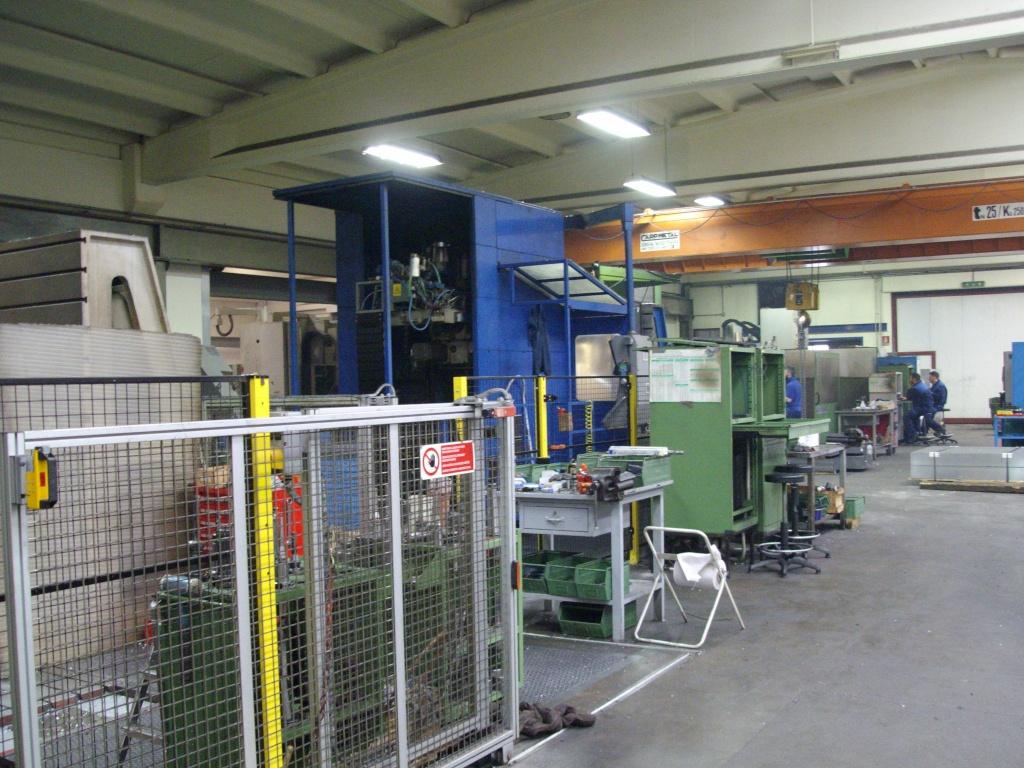 FOCUSING ON THE AUTOMOTIVE SECTOR
The main target market of Copy is the automotive sector (approximately 80% of sales), for which it constructs mold parts for bumpers, dashboards, roofing and sound insulation, and more. "In addition to the automotive industry, we currently serve the agriculture and design sectors," adds Conter.
The company operates mainly on the Italian market, where it produces about 80% of its turnover. "We have recently been collaborating with a company in Turin that is helping us break into foreign markets, especially in Germany," says Conter.
Always keeping up with new technologies, the company has a set of machines for the processing of large- and medium-sized molds (6,000×2,200×1,000 mm).
Processing can vary depending on the needs of clients, so the materials used by Copy vary, from steel to aluminum.
 "We are able to provide parts for molds, dies, punches, carriages and mold bolsters," adds Conter.
The production department is equipped with four 3+2 axes milling machines, a continuous 5-axis milling machine and seven 3-axis milling machines, in addition to two deep-hole drilling machines. "We have a maximum capacity of 20 t guaranteed by our three overhead cranes with which we can always move and place pieces quickly," says Conter.
The Brescia company is equipped with six CAD/CAM stations for the development of tool paths,
networked with all machines present in the workshop.
 "We also have two CAM stations for deep drilling paths", says Conter.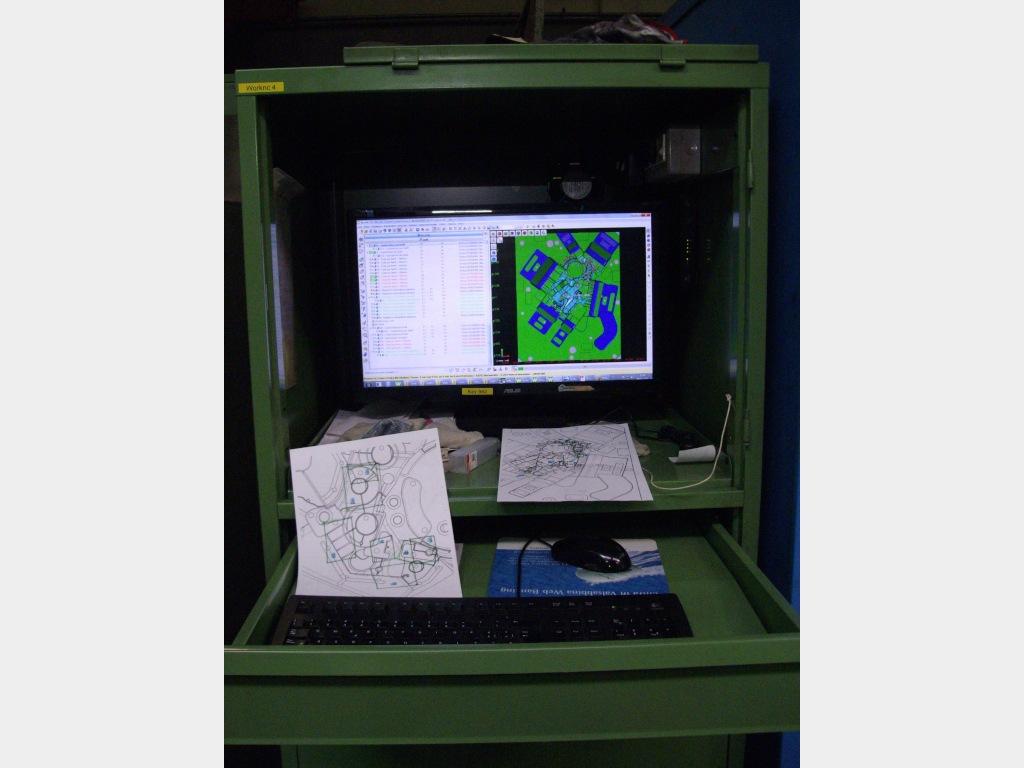 FOCUS ON INDUSTRY 4.0
Industry 4.0 is a highly topical issue and Copy is taking concrete action here to digitize its own workshop.
"In order to effectively manage our machinery, we have management software that can accurately plan production on every single machine," says George Alimonti, workshop manager. "This is a great help in the process of estimating budgets. Currently we are implementing the possibility of sharing the costs of the individual tools for each job in the management system. Meanwhile we are developing an electronic tool warehouse with bar codes to get a broader view of our production in digital format".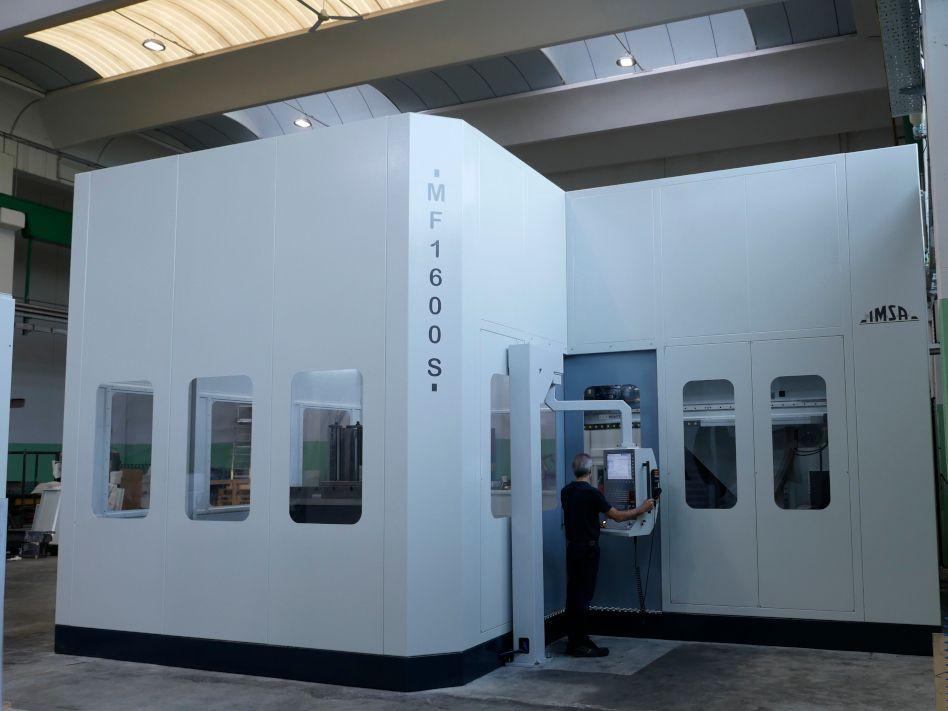 FOR DEEP DRILLING OPERATIONS
Over the years, the activities associated with deep drilling have become increasingly important in Copy's daily operations.
"Our first deep hole drilling machine was the IMSA 1500 model, bought about seven years ago and still in operation. It was a used machine acquired by one of our customers and retrofitted by IMSA," says Conter. "It is a drilling machine that allows us to perform machining operations starting from a minimum diameter of 6 mm up to a maximum of 25 mm."
The positive experience with this machine model, led Copy's owners to turn to IMSA for the second purchase too, which took place last year.
"It was time to expand the range of machines with a model able to drill diameters of 5 to 40 mm, and given the collaborative relationship established over the years, it was only natural to rely on the Lecco company for the purchase of the new machine, the MF1600S model," says Alimonti. "The distinctive elements of the machine include the ability to perform compound-angle drilling as well as undercuts, which are very important features that allow a mold to be worked on in one position."
For the MF1600S machine, IMSA's designers studied a system for switching between drilling and milling using only one spindle, but without the need for any manual intervention.
The MF1600S deep hole drilling and milling center is designed for molds up to 20 t and for drilling depths of up to 1,600 mm. The ISO 50 17 kW 4,500 rpm liquid-cooled power spindle is high performance, not only for deep hole drilling but also for all hole preparation processes.
"Hole preparation processing is typically carried out during the day, while drilling operations are performed unattended, at night," explains Alimonti.
A rotary clamping table, which moves 3,000 mm horizontally, is fixed on the X axis. The whole column moves along the transverse Z axis (1,500 mm). The beam is mounted onto this with the drilling and milling headstock, tilting from -15°+30°, which moves vertically 1,600 mm (Y axis). The advantages of this solution are linked to the machine's ability to cope with extreme situations, i.e., medium-sized as well as large-sized molds, with exactly the same approach. In fact, given the large stroke along the Z axis of the column, with a travel range over the table of 500 mm, the machine can manage both the 800×800 mm block in the center of the table in one positioning, as well as the 3,000×2,000 mm mold.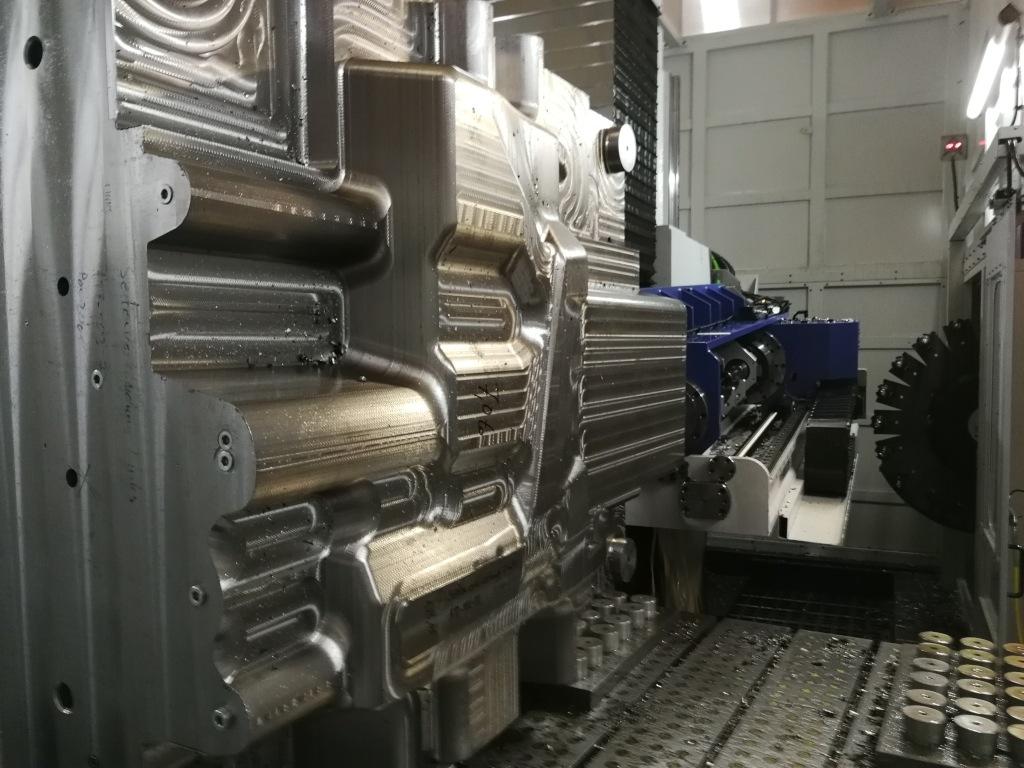 SWITCHING AUTOMATICALLY FROM DRILLING TO MILLING
Switching between the drilling and milling settings with IMSA's system Swing On Top occurs through two completely automated cycles, programmed by M functions. Switching over takes 120 seconds.
The switch in processing does not require the presence and intervention of the operator, either to assemble or disassemble parts of the machining unit, or to remove the gundrill and its accessories.
The gundrill unit, complete with chip box and autofocus steady rests, is rotated upwards and frees the ISO 50 spindle, which moves towards the front part of the machining unit and is positioned frontally to carry out the milling.
The MF1600S has a new generation ISO 50 spindle, with direct-drive transmission and liquid-cooled engine. This makes it possible to deliver a torque of 324 Nm in S1 and push it up to a speed of 4,500 rpm.
The Swing On Top system uses a gundrill holder with all the support elements, which is released and entirely reversed when switching to milling.
The level of rigidity resulting from the IMSA solution also allows 35 meters to be drilled between two resharpenings of the gundrill, and the technical solutions applied on the whole MF1600S machine ensure the required reliability for it to work during this time without the presence of the operator.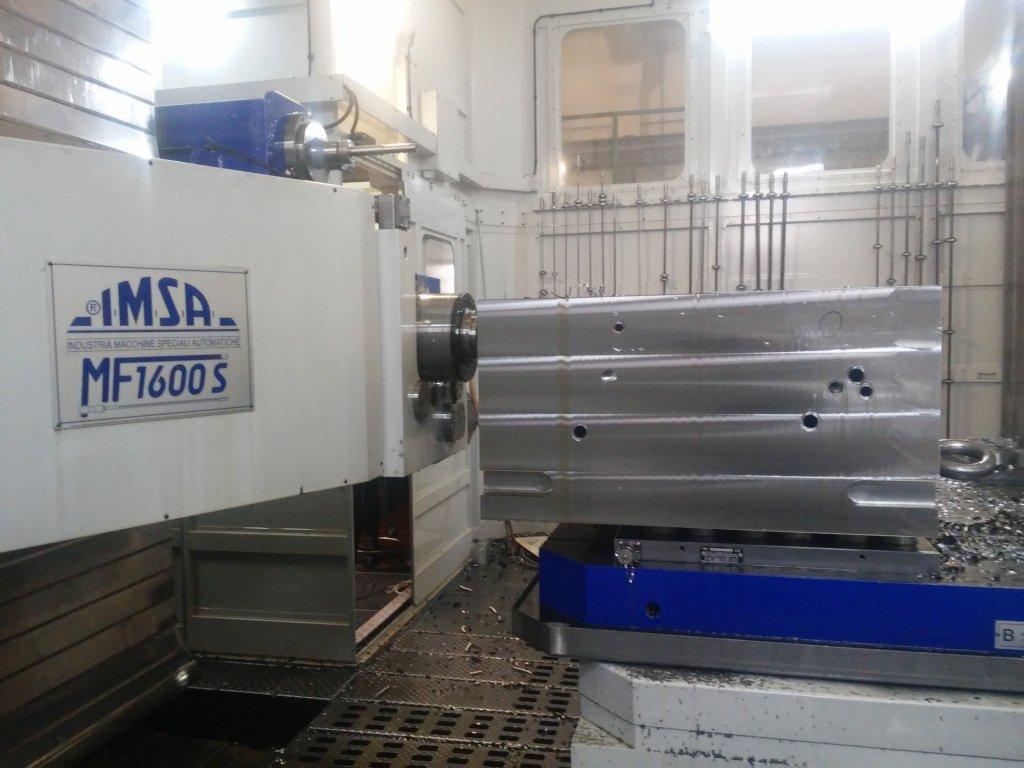 COMPLETE TECHNOLOGY SOLUTIONS
The MF1600S deep hole drilling center has a new kinematics with regard to the angle of the head, which sees the center of rotation completely forward and upright. This solution minimizes the extra strokes needed to handle holes with an angled slide. These mechanics are also coupled with an angular measuring system with reader head and with a hydraulic clamping system.
IMSA also applies a concept similar to the rotary table, which is applied to the requirements of deep-hole drilling: on the MF1600S rotary table a perimeter angular measuring system is mounted, with reader heads, and triple hydraulic clamping.
Oil management is also calibrated on the application requirements of deep drilling. In fact, for the optimal success of deep drilling, pressure, temperature and degree of oil cleanliness are critical parameters. The MF1600S is equipped with two different high- and low-pressure pumps, with an automatic filtering unit as well as a heat exchanger for cooling the oil. Finally, the machine is delivered complete with floor tanks and full fairing.
In addition to the specifications of the machine, at Copy they are also impressed with the service offered by IMSA "After-sales service is important for our company, and in this sense IMSA has fully met our expectations. In some cases all it takes is one phone call to deal with our queries. It is important to emphasize, however, that until now we have never had problems with the machine," concludes Alimonti.